Shop Now
THE GREATEST HITS FOR THE LIPS
The Minis

Shop Now
a highly -pigmented lipstick that delivers unparalleled
color payoff in a silky-smooth, light-as-air, comfortable
soft-matte formula
Feel the thrill of the
iconic Matte Matters

Shop Now
Its comfortable, soft -matte formula glides on
full coverage with a featherweight feel.
The most powerful
matte yet

Shop Now
Made to deliver fast, easy, and seamless results
for all formula, ensuring minimal product
absorption with soft & plush feel
The Iconic Bounce
that does it all

Shop Now
a constant, carry-all companion to your beauty essentials
with brown vegan leather that slips easily into your tote
Home for your whole
beauty essentials
Shop Our Featured Products
Clean, for us, means that a product that is made without a long (and ever-evolving) list of ingredients linked to harmful health effects. We learned early on that not every natural ingredient is good for the skin, nor is every synthetic bad. Clean beauty is where those two collide- with conscious, carefully-selected ingredients, and no compromises.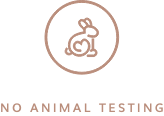 EFFORTLESS BEAUTY
FOR MODERN LIVES
We are on mission to develop purpose driven beauty products that truly have positive impacts.